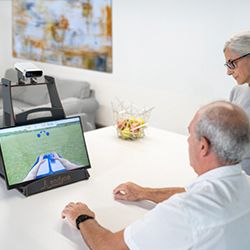 PHRASE
Personalised Health cognitive assistance for RehAbilatation SystEm
The end goal of PHRASE is delivering prognosis and intervention protocols for AI-based rehabilitation using a cloud database with information from stroke patients and healthy controls (EBRAINS) that provides an interface, the Virtual Research Environment (VRE) with said patient's information. VRE is a cloud service that facilitates reproducible online collaboration, emphasizing data integration and simulation that supports realizing a patient specific Brain Network Model (BNM), a computer model for simulating brain activity (Charité).
PHRASE will be validated with 1000 patients across 20 hospitals in Europe. The project seeks to:
Shorten hospital stay of stroke patients
Reduce personnel and transportation costs
Improve functional recovery and retention
Create a virtuous cycle of recovery
Eodyne Systems leads the project, with support from high-level partners in the field, such as EBRAINS, Radboud University, Charité Universitätsmedizin Berlin, and Saddlepoint Science Ltd.
EBRAINS participates by delivering services such as tool development, interoperability and development of business model.

Project partners
Eodyne Systems S.L.

Coordinator

Charité – Universitätsmedizin Berlin

Saddlepoint Science Ltd

Radboud University