Find datasets to support your research
Explore the EBRAINS Knowledge Graph and find the data and models that will help you make your next discovery. The EBRAINS KG brings together information from different fields of brain research, and connects research data to software that will help you analyse the data. At the core of the EBRAINS Knowledge Graph lies a graph database linking neuroscientific research across modalities based on the openMINDS metadata model. This makes it possible for EBRAINS to support extensive data reuse and complex computational workflows.
Find neuroscience data using our effective search interface using a variety of filters and keywords
Share your data in the right context by linking it to relevant research based on modality, techniques, contributors and more
Quickly get an overview of the conditions of reuse, license and how to cite data, models, and software
Access all of the metadata in the EBRAINS Knowledge Graph programmatically
Access, run or download open-source analysis software

---
search and find
Find data, models and software in the EBRAINS Knowledge Graph
The Knowledge Graph Search User Interface makes data, models and software discoverable and easy to use. The user interface allows for free text searches and provides filters to narrow searches based on metadata that classifies data according to experimental method, data modality and species among other options. The query results are displayed as Dataset cards containing key information about the dataset, e.g. its metadata, terms of use, and how to cite and reuse the data. Datasets that have undergone spatial registration to an atlas contain links to 3D or 2D viewers for navigating the data in atlas space.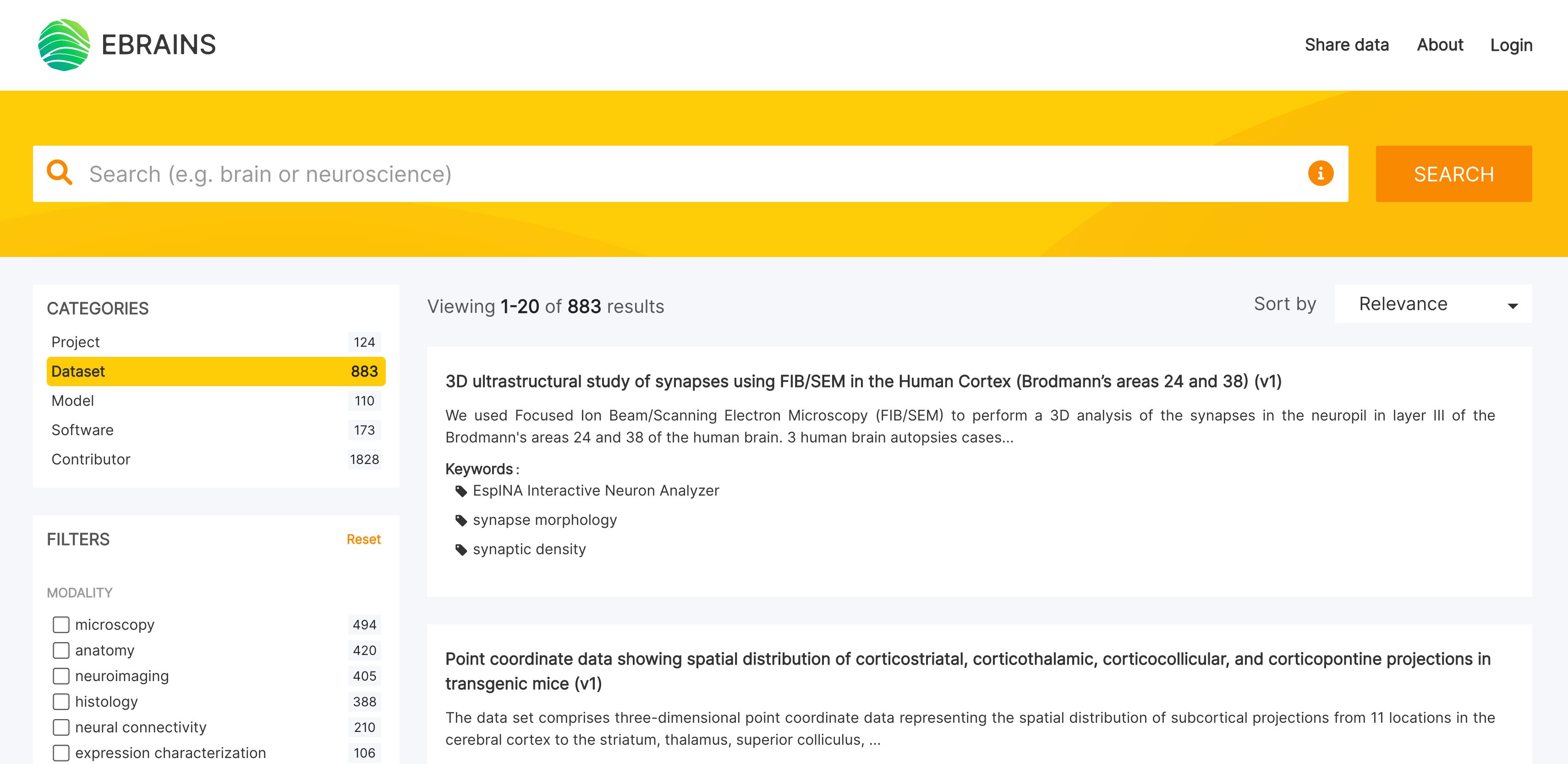 ---
programmatic access
Request programmatic access to the Knowledge Graph
The EBRAINS Knowledge Graph (KG) provides convenient tools and APIs for application or your scripts. To access the KG programmatically, besides having an EBRAINS account, you need to register and request credentials for your KG client.

After you have registered (and with that accepted the Terms of use), you will receive the credentials to get access to the public APIs of the EBRAINS KG.

---
background
Understand how the Knowledge Graph works
The EBRAINS Knowledge Graph (KG) integrates registered data, models, and software into a graph database, and outlines their relationship to each other, i.e. allowing you to connect a dataset to software tools for analysis and visualisation.
The knowledge graph technology is used in many organisations and for many purposes. It organises and links information from various sources in a web-like structure for the purpose of defining and exploring relationships and generating knowledge. Knowledge graphs have properties that make them more suitable than conventional fixed-schema databases in many application areas:
they allow existing data models to be extended at any point in time with new properties and connections
they can be used to generate a graphical representation of the relationships between any of its data points, allowing dynamic and flexible navigation of the content
complex relationships between data points can be represented more easily and thanks to semantic annotations, new connections can be inferred
Adopting the knowledge graph technology to a huge and diverse field of research such as neuroscience does not come for free. In many other application areas, pre-processed information is fed into the graph structures via automated ingestion pipelines. For the field of neuroscience, such pipelines are in most cases not easy to establish since the pre-processed information is either not available or not possible to interpret for others than those who generated the information.
The EBRAINS KG addresses this challenge through an "expert-driven" approach. Neuroscience-specific metadata standards and conventions are introduced while supporting extensions and adaption for future needs. The design employed makes conflicting information transparent and therefore enforces scientific discussions. This approach (which we call "expert-driven") adds several challenges which are addressed by various components built on top of the core services of the Knowledge Graph.
Ingested data are controlled by manual, semi-automated and automated quality assurance processes allowing domain-specific experts (in this case the neuroscientists of the EBRAINS Curation Services to actively validate and ensure conventions and consistency of the data.)

---
background
Visualise the current Knowledge Graph
We have built visualisations to show different aspects of the Knowledge Graph. See Knowledge Graph statistics and get an impression of how the Knowledge Graph is built.

---
background
The underlying metadata schema: openMINDS

openMINDS is an open source, community-driven project comprising a set of metadata schema collections for increasing the findability, accessibility and reusability of data repositories down to single files that originate from various neuroscience modalities and species.
openMINDS metadata schemas are designed to be used as architectural building blocks for graph databases, such as the EBRAINS Knowledge Graph. The modular structure of the schemas allows users to easily establish cross links between registered research products (datasets, models, software) within such databases. Furthermore, the openMINDS schemas allow users to define relations to ontologies, providing the possibility to connect data beyond the corresponding database to resources hosted elsewhere.
The EBRAINS curation service ensures that all datasets, models and software in the EBRAINS Knowledge Graph are described with the openMINDS metadata schema.