Science and technology
13 Apr 2023
New Unified Mouse atlas from the KIM lab is now available in the EBRAINS QuickNII image registration tool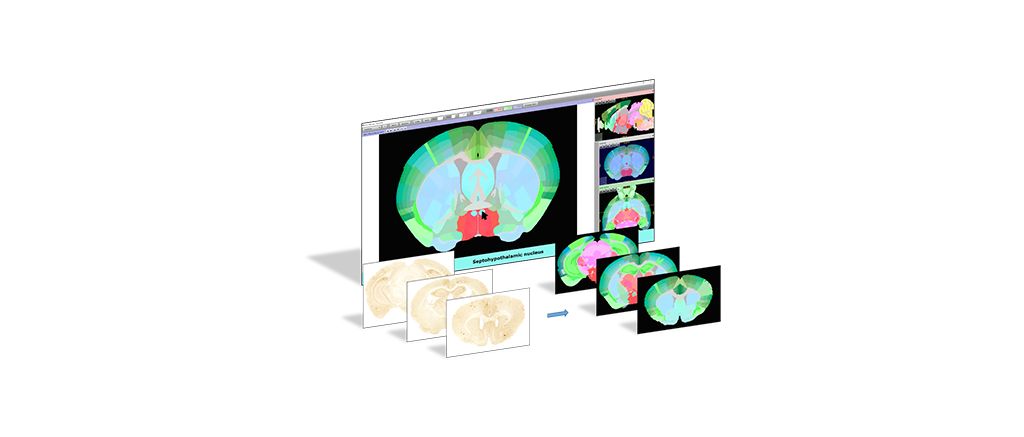 The EBRAINS atlas registration tool QuickNII now incorporates a new mouse brain atlas, providing the community with new opportunities for analysis of their rodent image data in atlas space.
Aligning experimental image data to an atlas is important for allowing new discoveries and comparing data originating from different research projects. As many more researchers share their data and use atlas based tools for data analysis, the community gets a better understanding of the complex organisation of brain cells and circuits. The Neural Systems laboratory, University of Oslo, has developed software tools to facilitate the registration of data to atlases and workflows to perform complete brain-wide analysis. Thanks to the support of the Human Brain Project and the EBRAINS research infrastructure, they provide a new version of the QuickNII tool containing the Unified Mouse brain atlas from the Kim group at Penn State University, USA.

The QuickNII tool developed by Gergely Csùcs is part of the EBRAINS atlas services and the new Kim Unified mouse atlas will also be integrated in the remaining software tools of the analysis workflow.

The QuickNII-Kim-v1 version can be downloaded here.
In the future, EBRAINS and the Neural Systems laboratory plan to add several more atlas resources, including developmental atlases, enabling new opportunities for sharing and analysis of brain data.